Langrisser is a Japanese SRPG masterpiece strategy game developed by ZlongGames. Experience exhilarating turn-based battles, class-based strategic combat, unique upgrade paths for each hero, real-time PvP, world-class artwork, an all-star voiceover cast, and an unforgettable musical score, as you explore a vast fantasy world! Heed the Langrisser's call and save the continent of El Sallia from destruction.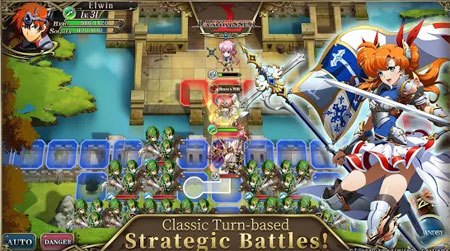 Engage in exciting turn-based battles where you must counter your enemy's units with the classic class priority system and use terrain bonuses to your advantage, all the while adjusting your strategy to achieve victory. Each hero has their own unique upgrade tree, change your heroes' classes according to the situation and formulate the perfect strategy.
Travel through time to perfectly recreated battles from five generations of Langrisser games. With more than 300 classic scenarios for you to master, it's time to take a journey to the golden age of game design. If you get stuck in the game, check out the video walkthrough and gameplay for the game.