Aion: Legions of War is a strategy RPG developed by NCSOFT Games. Embark on a journey to unravel the secrets that lay within a war torn Aion universe, and experience a story ripe with discovery, vengeance and redemption as it unfolds across stunning cinematics in the palm of your hand. Amass powerful heroes to lead your Legion against players around the globe to battle for glory.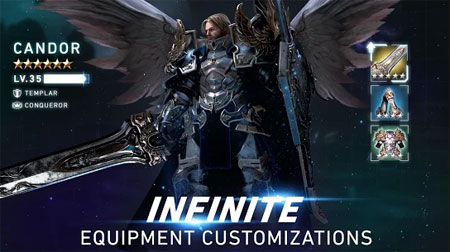 There are more than 100 heroes to discover and collect – armored warriors, monstrous beasts, colossal cyborgs, and more. Differentiate your heroes to build an invincible Legion to stand against all enemies. Amass powerful tanks, devastating damage dealers and protective healers from your Legion and dominate your enemies with overpowering strategy.
Harness the power of Awakening to unleash powerful hero transformations and hidden abilities, build teams based on affinity to gain the advantage. Deck out heroes with a plethora of equipments, such as legendary weapons, armor and accessories, to create undefeatable champions.
Time your special attacks with precision to counter enemy onslaughts. The game features witness stunning in-game graphics and fully rendered cutscenes, along with spectacular heroes, abilities and worlds to explore. If you get stuck in the game, check out the video walkthrough and gameplay for the game.
Aion: Legions of War Walkthrough Episode 1 – Dragon Frontier:

Aion: Legions of War Walkthrough Episode 2 – Forgotten Battlefield:

Aion: Legions of War Walkthrough Episode 3 – Sanctuary of Stars:

Aion: Legions of War Walkthrough Episode 4 – Stormy Islands:

Aion: Legions of War Walkthrough Episode 5 – Active Fortress Defense System: