World War Arena is a real-time military strategy game developed by LINE UP Corporation. Your mission is extremely important as a commander. You have to strategically combine a wide range of infantry units and powerful tanks to form a perfect force and prepare for the upcoming battle.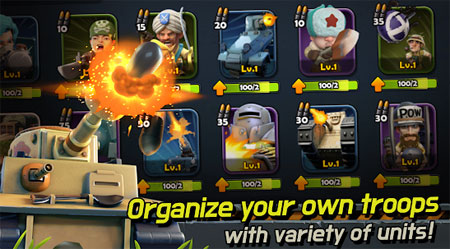 Choose your own commander to play among the many charming choices. Turn the tables in the war with the commander's special skill. Grasp opponent's strategy and respond with your own in the battlefield. Go ahead and move forward to defeat the enemy and take a victory. Use inexorable commander skills to try to turn the tables.
The units consist of distinct characteristics and charms. Create your own Deck with a variety of units. You can make your Deck stronger by upgrading your units. Place the units effectively during diminishing wave time and defeat attacking opponents. Let your powerful units move forward towards opponent's HQ. If you get stuck in the game, check out the video walkthrough and gameplay for the game.