Fabulous – Angela's True Colors is an awesome casual simulator developed by GameHouse. Angela's dream is to open a fashion boutique in the heart of New York's most glamorous designer area. It's nearly Fashion Week, and she's ready to shine. With new sketches in her portfolio, she's off to find investors, who are closer than she thinks. But when reigning fashion queen Noémie hears about the hot young designer trying to take over, she sets out to destroy Angela's plans.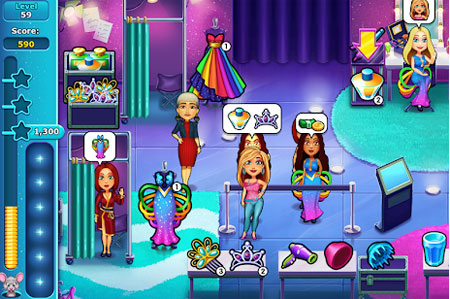 Create dresses, and stock bags, shoes, jewelry and other accessories for Angela's shop. Decorate the boutique to make it New York chic. Dress up your models, give them hairstyles and glam makeup, and send each beauty onto the runway.
Design your way through 60 story levels and 24 challenge levels. Earn your highest score in the 6 fabulous Endless Levels. Discover two secret levels. Master 20 unique fashion-themed minigames. If you get stuck in the game, check out the video walkthrough and gameplay for the game.
Fabulous – Angela's True Colors Walkthrough Level 6:

Fabulous – Angela's True Colors Walkthrough Level 7:

Fabulous – Angela's True Colors Walkthrough Level 8:

Fabulous – Angela's True Colors Walkthrough Level 9:

Fabulous – Angela's True Colors Walkthrough Level 10: