HungryFin: Underwater Puzzle Adventure is an amazing adventure game from Appox Games. Take your tiny fish on an adventure deep into the coral reef, exploring undersea caves and meeting the amazing ocean life that lives there. Eat smaller fish and evolve to overcome challenges.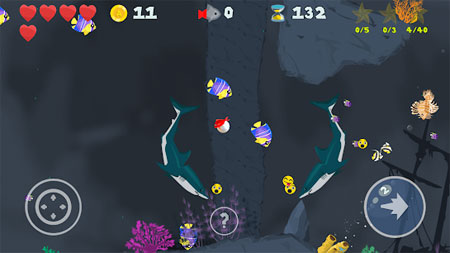 Eat smaller fish to grow bigger so you can eat larger fish and collect adaptations to give your fish special abilities. Find the lost fragments of the starfish to complete it. You can also upgrade 4 unique skills for your fish. Dash forward with speed to eat larger fish. Shoot bubbles at your enemies, they can stop damage and protect you for a short time.
Each fish has its own personality. Some are friendly and want to help, while some are mean and want to eat you, especially those hungry sharks and angry groupers. You'll have to solve puzzles to obtain starfish to unlock epic boss battles. There are 3 fun puzzles in each level. If you get stuck in the game, check out the video walkthrough and gameplay for the game.