Adventure Racing is an addictive physics-based racing game from HeroCraft Ltd. Unlock and upgrade awesome cars. Explore endless adventure maps until your fuel runs out or you flip your head. Drive through beautiful places like Italy, Jungle, and Battlefield.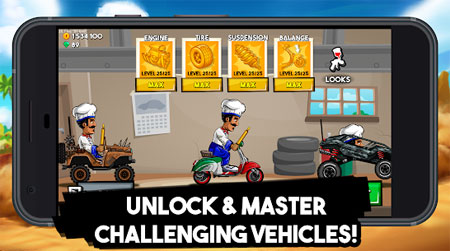 Earn tickets to unlock special chests that reward coins, gems, and customizations. Chests are a new and a much more interesting way to progress faster in the game. Tickets can be earned at a x2 the rate and chests can be unlocked faster with a VIP subscription that you just have to try out.
Ranks are distributed across all players that race up hills on their cars. There are the rank leaderboards that have 15 different ranks. If you get stuck in the game, check out the video walkthrough and gameplay for the game.