E.V.A.L is a 2D infinite runner game by stoptoplay. It is the first infinite runner in the world that uses drawing controls. You control the shape and color of a cute robotic creature that you must get through obstacles in the shape of triangles, circles, and squares. These obstacles will be in one of four different colors: red, blue, yellow, gray. For gray shapes, only the shape of the creature needs to match, and the color does not matter.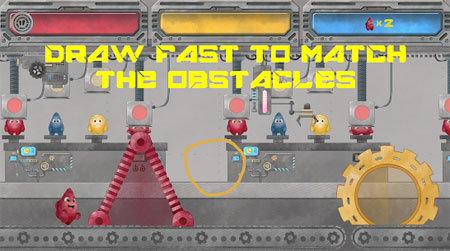 The screen is divided into three parts, red, blue, yellow. You draw the shape you want in the different areas to get your creature to change its' shape and color. A multi-level campaign that can be played on various difficulty settings , where the player gets to thwart E.V.A.L, a sarcastic, malfunctioning artificial intelligence.
20 unique challenge levels will test your skills with different power ups and hazards. There's also an endless runner mode where you can compete against the world to see who can rule the high score leaderboard. If you get stuck in the game, check out the video walkthrough and gameplay for the game.