Sky Dancer Run is an amazing runner adventure game by TOPEBOX. Run and jump across hazardous cliffs from one flying island to another, while avoiding large boulders. Feel free like a bird as you run through the skies and land gracefully trying to beat the endless abyss. Conquer all the dangerous terrains in different weather conditions from clear skies to storms which rage for days.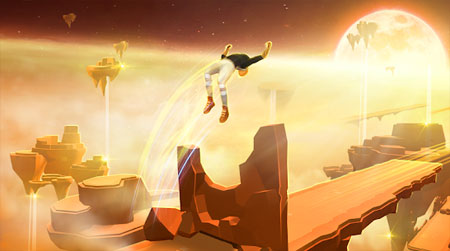 Take a deep breath, concentrate and feel the adrenaline pumping as you take that exhilarating jump. The experience might seem frightening and surreal at first, but soon you will find each free fall soothing and relaxing.
Falling is just as important as running. Feel the fall from the sky and make a perfect landing like a pro. Take huge, exhilarating, impossible, action movie-style leaps and pray you've got the skills to land on that platform far below. If you get stuck in the game, check out the video walkthrough and gameplay for the game.
Sky Dancer Run Walkthrough Part 1 – Little Kong:

Sky Dancer Run Walkthrough Part 2 – Sania:

Sky Dancer Run Walkthrough Part 3 – Moe:

Sky Dancer Run Walkthrough Part 4 – Miu:

Sky Dancer Run Walkthrough Part 5 – Lisa: