Sea Game: Mega Carrier is a real time multiplayer strategy game from tap4fun. You are entering a parallel world that mirrors our own during World War II. Begin from nothing, become stronger and stop the evil project Final Medusa. It is up to you to assist your allies or eliminate other potential enemies.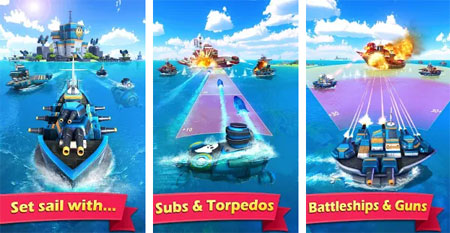 The enemies found the ruins of Atlantis choke full of highly advanced technology in the Atlantic and it gave them the power to alter space and time. They sent a secret faction to escape from the earth using the space technology found in the ruins to retain their strength and save the day. To stop the enemy's evil plan, the Allies sent elite troops to hunt down the remaining enemies. Friends or enemies, it is time for you to rewrite the history.
On this maritime planet, upgrade your Megacarriers to rule the ocean. Cooperate with or fight against millions of players worldwide of your own free will. Innovative Boss fight system allows anyone to join the battle anytime before the boss dies. Customize your fleets with different carriers, destroyers, and submarines, each suited to a specific purpose. If you get stuck in the game, check out the video walkthrough and gameplay for the game.
Sea Game: Mega Carrier Walkthrough Part 1:

Sea Game: Mega Carrier Walkthrough Part 2:

Sea Game: Mega Carrier Walkthrough Part 3:

Sea Game: Mega Carrier Walkthrough Part 4: