Cat Gunner: Super Force is a retro shoot'em up game from MOG Game Studios. A strange meteor falls on cat planet, resulting in a deadly outbreak. Many cats are turned into zombies, mindlessly attacking each other. The world now desperately needs defenders with big guns.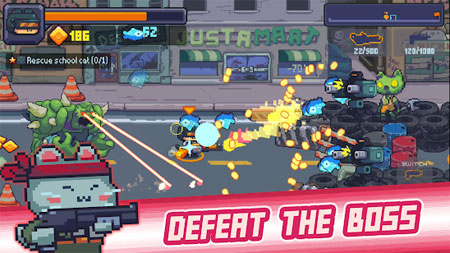 You will play as the Basic Cat a newbie who joins the indestructible Super Cat Force team to beat the cat zombies and rescue the other supercat members of the team. The game features a lot of powerful Guns, Cat Heroes and Support items for you to collect and form your own purrfect shooting shmup style.
There are 30 missions of story campaign to test the limit of your shooting skill. Choose from 3 different game modes with 6 bosses per difficulty level. If you get stuck in the game, check out the video walkthrough and gameplay for the game.
Cat Gunner: Super Force Walkthrough Part 1:

Cat Gunner: Super Force Walkthrough Part 2:

réplique de alexander mcqueen
Cat Gunner: Super Force Walkthrough Part 3: