Steel Division 2 is a WW2 real-time strategy game from Eugen Systems. Set on the Eastern Front in 1944, this sequel of the critically acclaimed Real-Time Tactical game puts you in charge of your entire army during Operation Bagration, the Soviet offensive against Nazi armies in Bielorussia.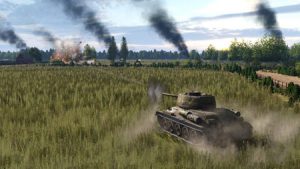 With more than 600 units, 25 maps, and multiple game modes, the game lets you play as you want and offers hundreds of hours of gameplay in solo, multiplayer and coop. Pick your side and relive this massive offensive or rewrite the course of events. Decide which battalion will take part into battle, fight every one of them in real-time tactical combat, or use autoresolve for a pure Strategic experience.
Select your division, pick the units you will send to battle, and build the perfect battlegroups in the brand new deck system, allowing more tactical freedom than ever. If you get stuck in the game, check out the video walkthrough and gameplay for the game.
Steel Division 2 Walkthrough Part 1 – Announcement & Details:

Steel Division 2 Walkthrough Part 2 – Trailer:

Steel Division 2 Walkthrough Part 3 – What We've Been Waiting For:

Steel Division 2 Walkthrough Part 4 – Thoughts: