Battle Rams: Clash Of Castles is an awesome strategy game from Big Game Freaks. Join other players around the world and embark on a fantasy journey! Battle forces of evil and lead your Heroes to glory. Control your hero movement, use special abilities and call upon your army for back up in order to destroy your enemy's castle.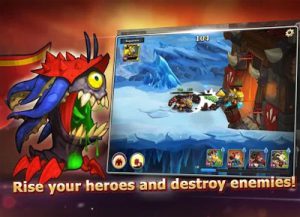 Train and upgrade your Heroes.Defeat bosses for epic loot. Upgrade your castle. Explore the vast fantasy wold. Complete daily quests. Forge gear and outfit your heroes for more power.
The game features seven fantasy locations, daily quests, more than 175 story driven missions, epic items, different hero classes, pvp arena and more. Every location contains several bosses, each with it's own special abilities. Defeat them for epic loot and special items. If you get stuck in the game, check out the video walkthrough and gameplay for the game.