Battle Brawlers is an awesome strategy game by DaYu Tech. Defend your War God at all costs. Your troops will form the first layer of protection. If enemy defeats your troops, they will pass the portal to attack your War God.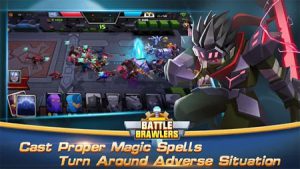 Your troops will move, fight and use skills automatically. At the beginning of each round, you will get certain amount of gold for building new barracks or upgrading existing ones. Think and plan well before setting up your troops.
The game features 8 races, 200+ different troops, 10+ distinctive heroes, and 40+ magic spells. If you get stuck in the game, check out the video walkthrough and gameplay for the game.