Epic War – Castle Alliance is an awesome strategy war game by DroidHen. Raise your kingdom, train your dragon, conquer the world and lead your people to victory. Expand your territory and upgrade various functional buildings in your city to collect resources in your farmland, train an unstoppable army, forge powerful equipment and research new technologies.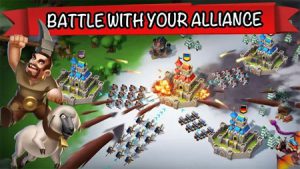 Strategize wisely for tactical collocation, tame dragons, mix different unit types for various combinations, and experience the thrill of war. Recruit and upgrade commanders with unique skills for hundreds of different PVE battles. Find the perfect combination for your combat force to enter battle and get rich experience and rewards.
Join or create an alliance to find new friends around the world, fight side by side with them in the immersive real-time combats and launch multiplayer wars against enemies. If you get stuck in the game, check out the video walkthrough and gameplay for the game.