Kingdom Rush Vengeance is another version of Kingdom Rush, the most popular tower defense game from Ironhide Game Studio. Embark on an epic journey as you gather his army and fulfill his devious plans. Fight your way as you conquer the new and the good old realms. Face empires of mighty enemies and clash against supreme bosses.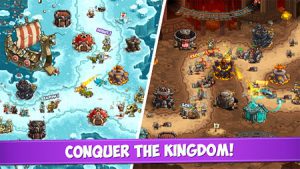 The game features 16 new towers, each with unique abilities and special powers. Choose your arsenal of towers and make devastating combinations to stop your enemies. There are 16 challenging stages across three lands ripe for the taking.
Rush the Kingdom as you bring down 3 mighty Kings in the most legendary of boss fights. Choose from 9 powerful heroes who will follow your command without hesitation. Beat over 35 deadly enemies that will put all of your wit and tactical skills to the test. There are over 50 achievements, hidden secrets and fun stuff for you to play and discover.
The game is now in the closed beta version. Here comes the official trailer of the game.