War Thunder is an amazing MMO World War II military game from Gaijin Entertainment. It is dedicated to aviation, armoured vehicles, and naval craft from World War II and the Cold War. Take part in major battles on land, in the air, and at sea, fighting with millions of players from all over the world in an ever-evolving environment.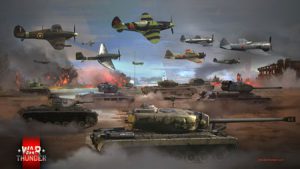 In the game, aircraft, attack helicopters, ground forces and naval ships collaborate in realistic competitive battles. You can choose from over 1,000 vehicles and an extensive variety of combat situations many of which are exclusive. You can find yourself blasting your pursuers from a bomber turret, defending your teammates on the ground from an air raid with anti-aircraft guns, shooting down enemy planes with a firestorm from multiple rocket launchers, or trying to sink an enemy warship with a torpedo from a fast attack boat.
The game features 80 maps representing the main historical battle theaters. Experience rich PvE content including dynamic historical campaigns and solo missions. Enjoy astonishing graphics, authentic sound effects and beautiful music creating an atmosphere to fully immerse yourself in.
The game has been released for PC. Now it will be available for Xbox One. Here comes the official trailer for the game.