Bike Stunts 2019 is an awesome stunt racing game developed by Timuz Games. Step up and prove that you are the most intense and competitive biker. Complete various challenging missions to earn game coins and buy new bikes with those coins.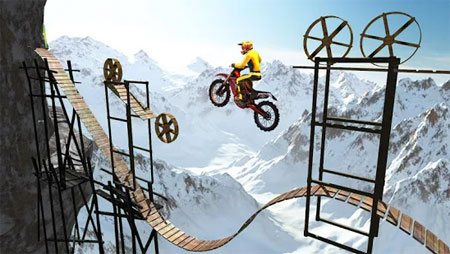 Cross the finish line safely without falling off the track to complete each level. Press the race button to accelerate, press brakes to avoid colliding, left and right arrows are placed to control leaning as well. With every bikes upgrade the control and grip of the vehicle gets better. Finish all the levels with three stars, and make your chance to qualify for next levels.
Some tracks require high speeds and some careful movements so choose carefully before you begin every race. Explore the immersive themes and study the racetrack to make it within the least time for the highest rewards. If you get stuck in the game, check out the video walkthrough and gameplay for the game.