Dark Riddle is a creative adventure game developed by Nika Entertainment. You have to face with an unusual neighbor, whose home is fraught with chilling secrets. Get into his house unnoticed, bypassing all the traps and video cameras, and get to the truth. Your task is not to think about how to get a neighbor, and learn the terrible secret of his house.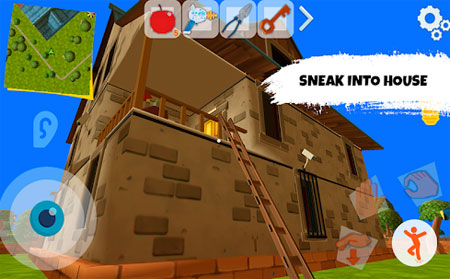 He is a very evil neighbor who never leaves his plot, and some strange sounds are heard regularly from his house. And one dark night a neighbor drags out of his house a bag with something that terribly reminiscent of the human body. It becomes clear that something terrible is happening. You need to get into the neighbor's house and find out what's going on.
Each corner of his yard is adorned with a movable video camera, and all doors and windows are securely locked. And the neighbor himself is a rather dangerous person who will stop at nothing, just to hide all his dark deeds. Use your own wits and uncover a terrible secret.
Find a flashlight, pimples, keys, gas cans and the like – all this will be very useful to you in the neighbor's house. In a critical situation, you can try to escape and take shelter in your own home, where the neighbor will not be able to get through. If you get tuck in the game, check out the video walkthrough and gameplay for the game.
Dark Riddle Walkthrough Part 1:

Dark Riddle Walkthrough Part 2: