QubeTown is an awesome simulator developed by Webzen Inc. Build a big farm to feed farm animals and pets and grow crops ranging from wheat to cotton. To make your town flourish, build bakeries and dessert shops to turn harvested crops into items you can trade. Trade with friends in Market Island or with cute dragon, elephant, and whale characters in exchange for exciting quests.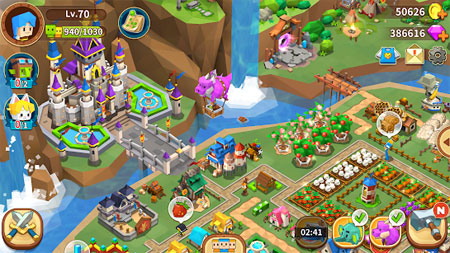 Collect citizens and heroes to help your town-building adventure more prosperous and to protect your citizens from evil trolls. Don't forget to socialize with friends by joining cooperating guilds and playing exciting minigames. There are brave citizens and cute animals to help your explorations.
Explore and travel to mysterious dungeons with your brave citizens and heroes. Protect your citizens from evil trolls destroying your town. Discover interesting and engaging stories with Tommy. Meet cute animals including dragons, elephants, and pandas. If you get stuck in the game, check out the video walkthrough and gameplay for the game.
QubeTown Walkthrough Part 1 – First Look:

QubeTown Walkthrough Part 2 – Level Up: