The War of Genesis: Battle of Antaria is a strategy MMORPG from JoyCity. Go on an adventure in your own airship with memorable characters and giant Machina. Go to war against fearsome monsters and the armies of Dark Armor to reclaim the continent of Antaria.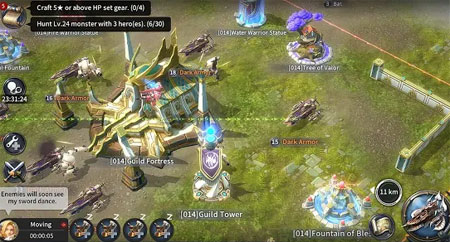 The game features a large cast of heroes with unique abilities. Customize your characters with different items and skills to suit your personal strategy. Research technologies to unlock new Airship capabilities and become the best captain.
Perfect your strategy by hunting various monsters. Defeat raid bosses and fend off dark forces. Upgrade your guild base and defend your territory from other guilds. Collect resources to help your guild dominate. Obtain valuable items with the trade system and always be war-ready.
Create your own epic quests, side stories, and secret histories with custom story mode. Share your creations with your friends and fellow players around the world. If you get stuck in the game, check out the video walkthrough and gameplay for the game.
The War of Genesis: Battle of Antaria Walkthrough Part 1:

The War of Genesis: Battle of Antaria Walkthrough Part 2:

The War of Genesis: Battle of Antaria Walkthrough Part 3: