Road to Valor: World War II is a real-time PVP strategy game from Dreamotion Inc. You can compete with global players around the world as a General of World War II. Select Command that suits your own strategy style and collect various units to build the strongest troops. Fight against swarms of enemies in the realistically presented battlefield. Destroy enemy Headquarter and bunkers to get medals as well as the most glorious victory.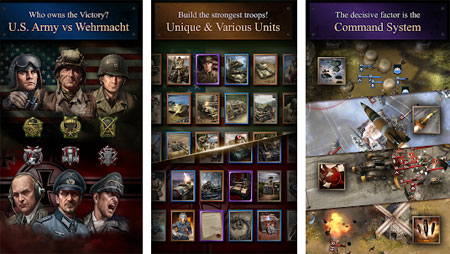 You can select factions from among the Allied and Axis powers. Collect different type of history-based units such as Infantry, Vehicles, Tanks, and Buildings. Build the strongest troop and gain the victory. There are some heroes who motivated by real war heroes. Get rewards from Crates to collect new powerful units or Upgrade remaining units.
Destroy the enemy headquarter and bunkers to receive medals and Reward Crates. Gain Rank Points to enter the higher Battlefield to unlock new and more powerful Units to use. If you get stuck in the game, check out the video walkthrough and gameplay for the game.