Citytopia: Build Your Dream City is a city tycoon building simulator from Atari. Become a visionary city creator, and build the most extraordinary Utopia. Discover and place many types of buildings, ranging from residential to industrial, commercial, and beautiful parks. Each building added develops your skyline, attracts more citizens and helps grow your economy.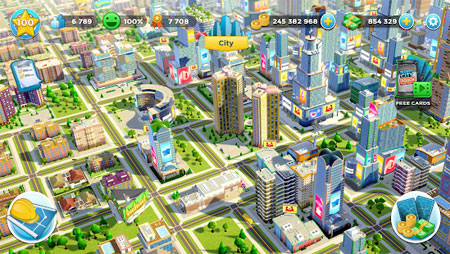 Unlock progressively all the neighborhoods, buy more real estate, and expand your city from a tiny town into an impressive megapolis. Once your city is fully developed, you'll be able to continue your journey in new cities, each coming with its own dedicated set of buildings.
Understand the needs from your citizens and connect factories to stores and stores to homes. Produce and sell a wide variety of goods to satisfy the population. Check the metrics indicating how clean your city is and make sure to always keep your citizens happy.
Open free packs every day to find new buildings, decorations, vehicles and more. Place cards to grow your city or consume them to craft upgraded versions of existing infrastructures. Discover rare and epic cards with outstanding stats, like towering skyscrapers or zero-emission vehicles. If you get stuck in the game, check out the video walkthrough and gameplay for the game.