The Gunner: Stickman Weapon Hero is an exciting 2D shooting game from BYVAction. You will play as a simple guy who got into a difficult situation. Armed with only one gun, you need to resist the crowds of bad guys who have a huge amount of firearms at their disposal.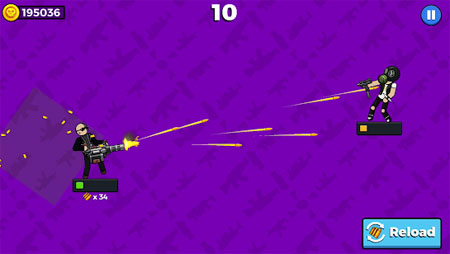 The game has an unusual aiming system based on realistic 2D ragdoll physics. After each shot at the enemy it will be difficult to aim, because the kickback of the weapon will act on your stickman. The more powerful the shot, the stronger the weapon or even your hero will be thrown.
For destroyed opponents you will receive gold coins that you can spend to grow your arsenal. You can buy a gun, machine gun, shotgun, bow with arrows, sniper rifle, grenade launcher or even a minigun. Each weapon can be improved by upgrading its damage, the number of ammunition rounds or accuracy.
To protect your character from bullets, wear a helmet and body armor made of durable bullet-proof materials. If you get stuck in the game, check out the video walkthrough and gameplay for the game.