Top Run: Retro Pixel Adventure is an endless platgformer runner game by Katata Games. Play as Kevin and his dog Buddy and make your way through the neon city full of dangerous enemies. The game has a lot of things you love: neon, pixel art, a bit of outrun, tiny piece of synthwave, scanlines, and VHS effects.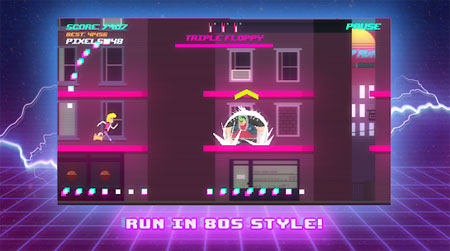 Save your friends Joy, Darryl and Ben and they will help you on your dangerous journey. Just shake your phone to use their super powers. You could choose from different modes – Normal Mode, Hardcore Mode, and Rage Mode.
The game features more than 100 missions, and tons of cool skins from 80s movies and cartoons. Run as far as you can and get the best score. Use superpowers to survive epic battles while you run. Shoot floppies to kill enemies. Collect pixels to upgrade your abilities and gain more power. If you get stuck in the game, check out the video walkthrough and gameplay for the game.