Foodgod's Food Truck Frenzy is a food-themed puzzle matching game by Atari, Inc. Launch your own food truck business and battle over customers and colorful kingdoms, collecting dozens of recipes, characters and more under the watchful eye of the Foodgod. Create over-the-top foods and desserts to rise through the ranks of the Foodgod culinary world.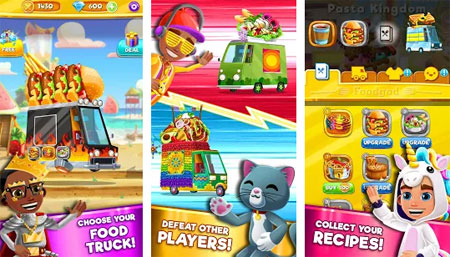 Practice your skills and experiment with the perfect menu as you expand your business across City Challenges in your drive for world domination. Battle against other players as you strive to generate more money as you grow your business and unlock new content including kingdoms, trucks and seasonings to fuel your business.
Match ingredients from the main food groups to create special dishes that can be used to please your customers and defeat your opponents. Collect Coins and Crystals as you battle for business in the Food Kingdoms to expand your business. Acquire more ingredients and power up your Food Truck to maximize your recipe loadouts. If you get stuck in the game, check out the video walkthrough and gameplay for the game.