Red Dead Redemption 2 is an epic tale of life in America at the dawn of the modern age, from Rockstar Games. The end of the wild west era has begun as lawmen hunt down the last remaining outlaw gangs. Those who will not surrender or succumb are killed. After a robbery goes badly wrong in the western town of Blackwater, Arthur Morgan and the Van der Linde gang are forced to flee.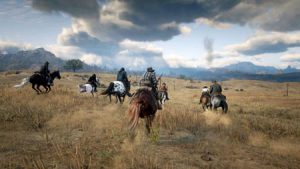 With federal agents and the best bounty hunters in the nation massing on their heels, the gang must rob, steal and fight their way across the rugged heartland of America in order to survive. As deepening internal divisions threaten to tear the gang apart, Arthur must make a choice between his own ideals and loyalty to the gang who raised him.
The game focuses heavily on player choice for the story and missions. Certain moments in the story will give players the option to accept or decline additional missions and lightly shape the plot around their choices.
The game features both hunting and fishing, which provide food, income and materials for crafting items. After a successful hunt, players can either skin and butcher the animal on the spot or take it with them whole.
The gang's criminal acts brings them into conflict with various opposing forces including the wealthy oil magnate Leviticus Cornwall whose assets become a gang target. If you get stuck in the game, check out the video walkthrough and gameplay for the game.
Red Dead Redemption 2 Walkthrough Part 1 – Reach For The Sky:

Red Dead Redemption 2 Walkthrough Part 2 – Is This A Horse:

Red Dead Redemption 2 Walkthrough Part 3 – Bottoms Up, Lenny:

Red Dead Redemption 2 Walkthrough Part 4 – Bath Time:

Red Dead Redemption 2 Walkthrough Part 5 – I Played Myself:

Red Dead Redemption 2 Walkthrough Part 6 – The Promised Land:

Red Dead Redemption 2 Walkthrough Part 7 – Holy Crap:

Red Dead Redemption 2 Walkthrough Part 8 – Horse Problems:

Red Dead Redemption 2 Walkthrough Part 9 – The Bravest Woman:

Red Dead Redemption 2 Walkthrough Part 10 – Mistakes Were Made:

Red Dead Redemption 2 Walkthrough Part 11 – Slurp:

Red Dead Redemption 2 Walkthrough Part 12 – What Happened: