Tank Battle Heroes: World of Shooting is a multiplayer tank battle game from T-Bull. Get ready for the tank warfare and jump into the war action in modern PvP tank shooter. Choose your tank, upgrade your deadly weapon and get ready for real World War. Destroy enemies, aim precisely, shoot fast and dominate the world full of different tanks.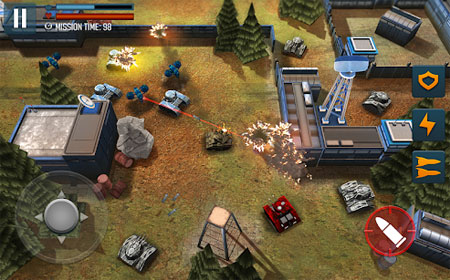 Every single available tank will act differently on the battleground. Experience real clash of tank gunners and play against your battle rivals. Achieve victory, test the full power of each tank and increase its field of gunfire. Test your skills in various tank world conditions and strike for victory through different battlegrounds. Defeat the enemy on the ice, desert and deep in the forest. Every map requires a different pack of skills. Fight and shoot your enemies in various WWII battlefields.
Make your way to the victory in every available tank and unlock all the options to customize your war machine's weapon. Conquer the world on every possible map and find yourself in different conditions. Expect tough fights and clever enemies. Experience real clash of tank commanders destroying your opponents in fast-paced real-time tank combat.
Choose the best strategy and make right decisions. Feel the spirit of real tank battlefields. Unlock and upgrade your war machines. Choose between various war machines categories from WW2 classics to modern ones. Become a hero driving your tank through European battlefields. If you get stuck in the game, check out the video walkthrough and gameplay for the game.
Tank Battle Heroes: World of Shooting Walkthrough Mission 1 to 5:

Tank Battle Heroes: World of Shooting Walkthrough Mission 6 to 10:

Tank Battle Heroes: World of Shooting Walkthrough Mission 11 to 15:

Tank Battle Heroes: World of Shooting Walkthrough Mission 16 to 20:

Tank Battle Heroes: World of Shooting Walkthrough Mission 21 to 25: