Shadow Legend is an exploration-RPG exclusively designed for VR developed by VitruviusVR, where you play as the Grand Master of the Knights Templar in a story-driven medieval crusade. The game immerses you in the medieval realm of Anaria. You begin your crusade as the Grand Master of the Knights Templar at a time when the Gods of your realm are at war. Freely explore densely filled worlds and use your sword, bow, and magic skills to save your kingdom from the destruction of Lord Adaroth.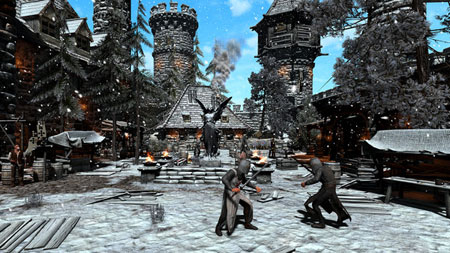 Speak with characters and barter with merchants using your own voice, explore the worlds to find its hidden treasure, choose from swords, bows, axes, and magic weapons to defeat skilled enemies and epic bosses, and immerse yourself into the diverse set of interactions the game offers. The game is filled with things to do, discover, and interact with creating a near life-like adventure for you to immerse yourself in that's only made possible in virtual reality.
Everything in Shadow Legends is collectable and stored in a treasure chest that you carry with you at all times. Physically use your hands to manage loot, quest items, and weapons all from one central inventory chest. Each boss fight is specifically designed for VR, has a numerous stages, and will require quickly timed attacks and blocks to bring your opponent down. If you get stuck in the game, check out the video walkthrough and gameplay for the game.
Shadow Legend VR Walkthrough Part 1 – Mind Blowing Vr:

Shadow Legend VR Walkthrough Part 2 – The Shadow Realm:

Shadow Legend VR Walkthrough Part 3 – The Ice King's Blade:

Shadow Legend VR Walkthrough Part 4 – Eat Me:

Shadow Legend VR Walkthrough Part 5 – The Guardian Boss Battle:

Shadow Legend VR Walkthrough Part 6 – Final Boss: