Minotaur Arcade is an awesome arcade-style action game from Llamasoft. Vol. 1 comprises two classic Llamasoft titles: Gridrunner, an exhilarating shooter; and Goatup, a fun platformer. Play in three different modes – Pure, Endurance, or Casual.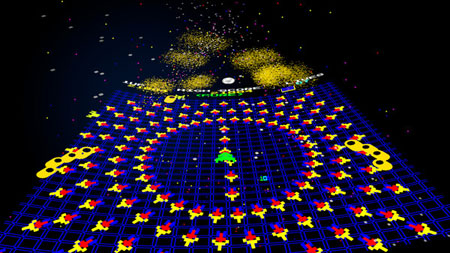 Shoot all the baddies, collect powerups to boost your own firepower to at times overwhelming superiority, blast through rack after rack dealing with increasingly tricky enemies and level geometries. Everything blows apart into scintillating smithereens the way Eugene Jarvis taught us it should. Collect powerups to augment your firepower to ridiculous levels.
Goatup is a light-hearted platformer that'll have you baaing with joy. You are a little nanny goat whose mission in life is to climb up as high as you can and to raise as many kids as you can along the way. Kiss any billy goats you see, and keep eating grass and eventually you'll be rewarded with a kid. The more kids you have, and the higher you climb, the more points you will score.
Climb up through a variety of themed zones. Discover powerups that can augment your powers for a while as you climb. Discover new zones as you climb. If you get stuck in the game, check out the video walkthrough and gameplay for the game.
Minotaur Arcade Volume 1 Walkthrough Part 1 – VR Mode:
Minotaur Arcade Volume 1 Walkthrough Part 3 – Gridrunner:
Minotaur Arcade Volume 1 Walkthrough Part 2 – Goatup:
Minotaur Arcade Volume 1 Walkthrough Part 4 – Gameplay: