Eternal Fury 2 is an amazing RPG from Proficient City Limited. Summon powerful heroes, look for resources to expand your kingdom, conquest your neighbors and enemies. Explore these mysterious lands and protect them from the World Boss.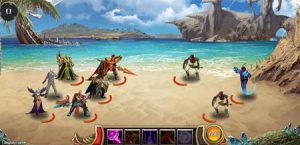 Build and upgrade your own castle, use it to train your exclusive army to collect resources for you and become the strongest kingdom. Customize, equip and upgrade your character. Collect, refine, strengthen your own equipment and become unstoppable collecting Astros for your attributes.
The game features 24 heroes with tactical positioning for you to choose, each hero comes with 4 unique special skills. Different maps are waiting for you to explore, find the Boss and defeat it to win the highest honor. If you get stuck in the game, check out the video walkthrough and gameplay for the game.