Ultimate Derby Online – Mad Demolition Multiplayer is an exciting and realistic derby game from Rock App Studio. Play with your favorite cars with your friends online. Accept the challenge from the most fearless and cool derby-destroyers. You can create your own dream car and show off your style to everyone.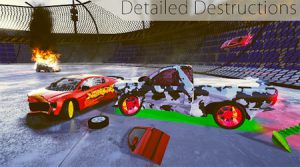 Dive headlong into this hyperrealistic simulator with scrupulously elaborated real wheelbarrows, HDR-technologies and stunning visual effects, which can turn the best collisions into a real blockbuster. Enemy cars are getting tougher, competition is becoming more complicated. But every derby makes you stronger. Upgrade your car for the best, to make more damage.
The physics of cars is sufficiently developed to simulate damage, accidents and destruction was as realistic as possible. Feel the pleasure of the collision by crushing or having even broken off the opponent's car. If you get stuck in the game, check out the video walkthrough and gameplay for the game.