King Crusher is a rogue-like RPG developed by Ankama Games. You will take on the role of the King's Hand. Recruit a small group of fighters from 12 character classes. Take advantage of everyone's strengths, move strategically on the field, collect all the items you find on your journey, put the bonuses you pick up in combat to good use.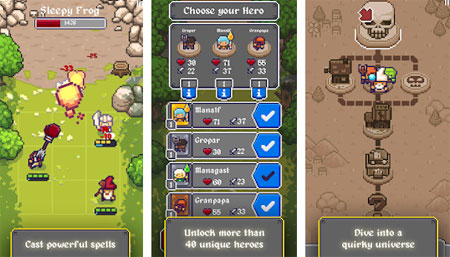 You have more than 60 events and situations to overcome. Defeat powerful kings, take their Kingdom's throwns to achieve domination. Explore a quirky and fantastical medieval universe over 5 unique lands.
Swipe, attack with quick hits, move around using slide motions. Build your strategy, earn loots to cast new spells and become the most fearful warriors to serve the Kingdom. If you get stuck in the game, check out the video walkthrough and gameplay for the game.