Is It Love? Blue Swan Hospital – Choose Your Story is a unique interactive novel RPG from 1492 Studio. You're a first-year resident in the emergency room of one of the most prestigious hospitals on the West Coast, the Blue Swan. You know this is a once-in-a-lifetime opportunity and you can't screw it up. Being part of the Swans is any young doctor's dream.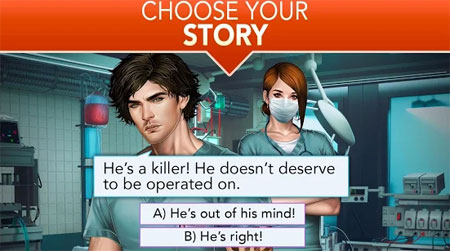 As an aspiring doctor, you are prepared to deal with life-or-death consequences on a daily basis. It's going to be tough, your nerves will be wrecked and your supervisor will not make life easy for you. But you'll meet friendly colleagues, each one with a different story and calling, with whom to build strong relationships. You may even find love. It's up to you to make the right choices.
You will be like one of your favorite medical drama TV shows characters. Your choices influence how the story unfolds. If you get stuck in the game, check out the video walkthrough and gameplay for the game.
Is It Love? Blue Swan Hospital – Choose Your Story Walkthrough Chapter 1 Part 1:

Is It Love? Blue Swan Hospital – Choose Your Story Walkthrough Chapter 1 Part 2:

Is It Love? Blue Swan Hospital – Choose Your Story Walkthrough Chapter 1 Part 3:

Is It Love? Blue Swan Hospital – Choose Your Story Walkthrough Chapter 1 Part 4: