Robozuna is the companion app to the hit TV show Robozuna, from Kuato Studios. Enter the arena and take your Combatabot to the top by defeating rival bots in battles and earning new parts to add to your bot. Your Combatabot is entirely customizable and you can even choose their taunts and celebrations. Build up your bot, fight your way to the top and collect information on all of the Combatabots to complete your codex.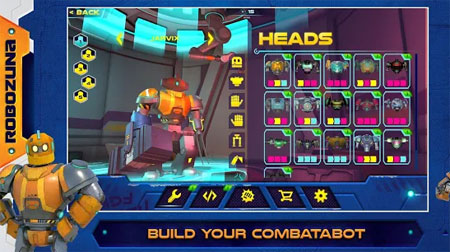 You can change the colour, the weapons and body parts that your Combatabot has in order to create the ultimate bot battler. Work out which parts work best for you then combine them and earn even more parts by working your way through the Robozuna roster.
Find out all of the top facts about your favourite bots as you battle your way through them. Get all of the insider knowledge to help you understand and beat your rivals. You'll face off against all of the bots from Robozuna including Gripper, Torch, Clunk and Spark. Beat them all to receive brand new parts for your Combatabot to become the ultimate Robozuna champion. If you get stuck in the game, check out the video walkthrough and gameplay for the game.