Age of Sail: Navy & Pirates is a unique sail-topic strategy game developed by Strategy Gamez. You will take on the role of the most feared pirates captain and sail the legendary pirate ships against the royal navy, raise the black flag and take the helm to sail through battles and raids.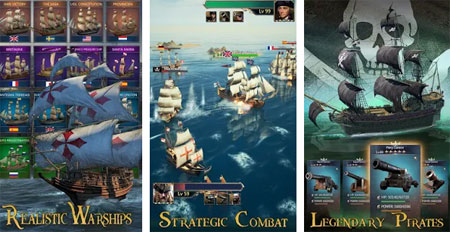 Restore accurately more than 25 eminence sailboats worldwide, including but not only the Flying Dutchman, Queen Anne's Revenge and the Black Pearl. Leveling up your sailboats has always been the key of Age of sail. Using fewer resources and having the stronger sailboats could be your challenge.
Build 3 types of warships for different uses, Frigate, Corvette and Gunboat, expand your fleets and enhance your strength. Build the naval base, train soldiers and technologies, collect extraordinary sailing warships and immoral pirates and compete for battle capacities and resources. If you get stuck in the game, check out the video walkthrough and gameplay for the game.