Hang Line is a physics-based extreme climbing game developed by Yodo1 Games. Swing up dangerous mountain peaks with a grappling hook, avoiding falling rocks, avalanches and angry goats.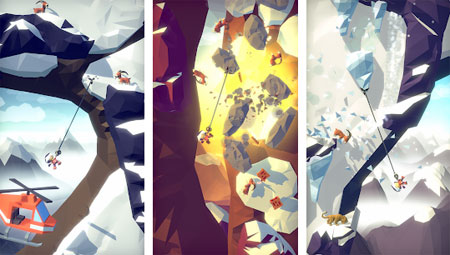 Climb treacherous rock faces and navigate dangerous obstacles including angry mountain goats, falling boulders and shattering ice stalactites. Use your grapple to drag obstacles and pull away ice blockages in order to clear the path forward. Fling yourself to safety as the mountain literally collapses around you.
Play through over 40 unique hand crafted levels, each offering its own unique challenges and surprises including avalanches and volcanoes. Earn rewards by searching for secrets on the mountain and competing in bonus time challenges. If you get stuck in the game, check out the video walkthrough and gameplay for the game.
Hang Line Walkthrough Part 1:

Hang Line Walkthrough Part 2:

Hang Line Walkthrough Part 3:

Hang Line Walkthrough Part 4: