Spy Ninja Network – Chad & Vy is an awesome puzzle game developed by BroadbandTV Corp. Your objective is to help Chad Wild Clay and Vy Qwaint defeat Project Zorgo. Use Spy Ninja tools to climb the ranks and see if you're among the best in the worldwide network. Get clues from Chad and Vy about Project Zorgo, and receive special intel through the app.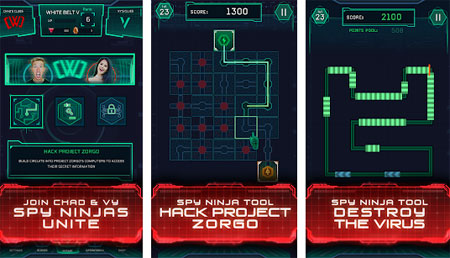 Project Zorgo is trying to stop us though. They're putting viruses on our circuits, so be sure to use the destroy the virus tool to blast their viruses off our network. Use the Hack Project Zorgo tool to build circuits that lead into Project Zorgo's computers and together to access their secret information.
Collect Ninja Gadgets as you get your Spy Ninja gear ready for a new mission to be uncovered by Chad and Vy. If you get stuck in the game, check out the video walkthrough and gameplay for the game.