Jones: Jomblo is Happiness is an awesome visual novel adventure game developed by Niji Games. You go to a high school, but you never had a girlfirend and all of your friends said you'll be alone forever. You have to prove to all that you can graduate from high school and be happy even if you're single.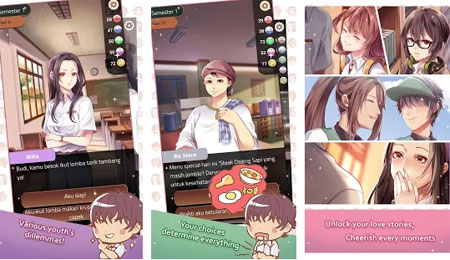 Live out your days and face the challenging high school life by balancing your financial, social life, academic, health, and possibly romance. You must keep your spirit up and may be you will get a girlfriend.
The game features 6 challenging semesters. You will meet 4 new friends, each of them has unique characteristics and personality. Your every decision will affect your destiny. There are 5 different endings depending on your choices. If you get stuck in the game, check out the video walkthrough and gameplay for the game.
Jones: Jomblo is Happiness Walkthrough Part 1 – Kembali Kesekolah:

Jones: Jomblo is Happiness Walkthrough Part 2 – Gombalin Mita:

Jones: Jomblo is Happiness Walkthrough Part 3 – Pepet Terus Si mita:

Jones: Jomblo is Happiness Walkthrough Part 4 – Mita Galak Tapi Cakep:

Jones: Jomblo is Happiness Walkthrough Part 5 – Hari Penembakan Mita:

Jones: Jomblo is Happiness Walkthrough Part 6 – Akhirnya and Ending: