My Little Pony Pocket Ponies is a ridiculously fun arcade game from Budge Studios. Join Twilight Sparkle and your favorite My Little Pony characters at the school of Friendship. As a new student, you are swept away in the first awesome Pocket Pony Championship. Face-off against masters, students and teachers in thrilling arcade challenges using the unique Pocket Ponies figurines.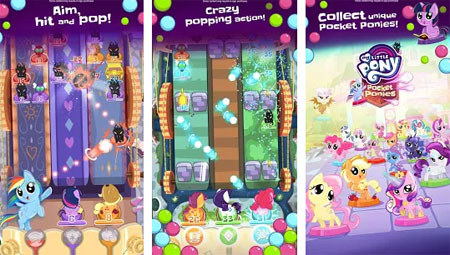 Aim at barriers and walls to get balls bouncing everywhere. Release your Pocket Ponies' magic to defeat enemies in fast-paced arcade challenges. Level up to get multiple shots going at once for crazy popping action. Collect unique Pocket Ponies, such as the Cutie Mark Crusaders or the Mane Six.
Explore the School of Friendship and meet a whole host of characters. Rank high enough to take on our legendary Pocket Pony Masters: Rainbow Dash, Applejack or Pinkie Pie. Unlock new areas on campus as you complete challenges. If you get stuck in the game, check out the video walkthrough and gameplay for the game.
My Little Pony Pocket Ponies Walkthrough Part 1:

My Little Pony Pocket Ponies Walkthrough Part 2:

My Little Pony Pocket Ponies Walkthrough Part 3: