Car Caramba: Driving Simulator is an exciting car driving game from Play With Games. The game transports you into a vivid, Spain-inspired city and lets you explore it from a bunch of different perspectives. Drive a muscle car and cruise through the streets, a pickup truck for a more challenging drive, switch to trucks for the ultimate driving proficiency test.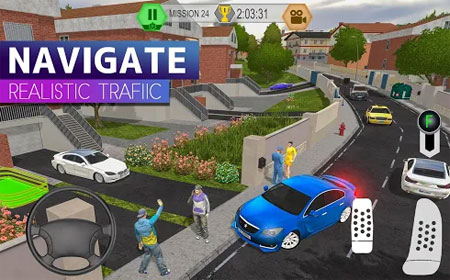 Top it off with buses that require a completely different approach. Stick to the timetable, collect passengers at bus stops and deliver them to their destinations. Drive safely and responsibly to finish this task safely.
In addition to driving you will also have to visit gas stations to fill up your tank. Every task you approach has to be completed as quickly as possible. The faster you arrive at your destination, the better your rewards. If you get stuck in the game, check out the video walkhthrough and gameplay for the game.
Car Caramba: Driving Simulator Walkthrough Part 1 – Intercity Bus & Muscle Car:

Car Caramba: Driving Simulator Walkthrough Part 2 – Guardian Pickup Truck: