Dumb Family: 101 Ways to Have Fun is an amazing casual game developed by Have Fun Games. You are the one to rescue the dumb family, because they are facing all dangers of death in life – lighting, fire, electricity, driving, poiso, drown, and more.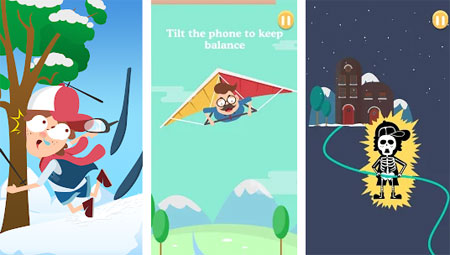 Click the screen to kill the poisonous mosquitoes, slide on screen to link the electrical wire, tilt the phone to keep the ladder in balance, etc., you should find these methods out and save this dumb family.
The game features 24 dumb missions, from easy to difficult. The more missions you pass, the higher achievements you reach, the more awards you can get. If you get stuck in the game, check out the video walkthrough and gameplay for the game.
Dumb Missions:
Dumb Task 1. Defecation in the morning to keep healthy.
Dumb Task 2. Beat the cuttlefish quickly, it may block your eyesight.
Dumb Task 3. Be careful with mosquitos, some of them are dangerous.
Dumb Task 4. In thunderstorms weather, be careful with the thunders.
Dumb Task 5. Security check is quite important in fire balloon.
Dumb Task 6. Electric eel stuns enemies with slight electricity, cuttlefish spray black ink to blur enemies' sight, be careful with them.
Dumb Task 7. Octopuses are mollusks, they use their soft feelers to entangle enemies, be carful not to be entangled by them.
Dumb Task 8. Do not to touch the bare electrical wire and bundle it as soon as possible.
Dumb Task 9. Turn off the water tap every time you finish shower.
Dumb Task 10. Paraglide need high balancing ability, take care.
Dumb Task 11. Focus on the speed on running machine, either too fast or too slow may lead to wrestling.
Dumb Task 12. SOS – Use light stick to catch others' attention, shock sticks to turn them on.
Dumb Task 13. Speed is quite important in skiing.
Dumb Task 14. Keep an eye on the road when you are walking, be careful with the missing manhole cover.
Dumb Task 15. Darts are dangerous, do not aim to human beings.
Dumb Task 16. Do not throw watermelon skin on road, others may slip and fall.
Dumb Task 17. Ware swim ring to avoid drown.
Dumb Task 18. Do not wake the bats, they may get angry and hurt you.
Dumb Task 19. It is dangerous using mobile phone on road, which may diffuse your attention.
Dumb Task 20. PINs are everywhere in life; you should try to remember.
Dumb Task 21. Keep flower vases away from kids' sights.
Dumb Task 22. Kids should not take the elevator alone.
Dumb Task 23. Keep an eye on the poisonous wine.
Dumb Task 24. keep ladder in a smooth place and ask someone to hold it.