Mr Bow is a unique stickman archer game from ZPLAY Games. Choose your bow and arrow, become the legendary archer master and destroy the evil enemy stickman archers. Sharpen your archery target and shooting skills and become a champion.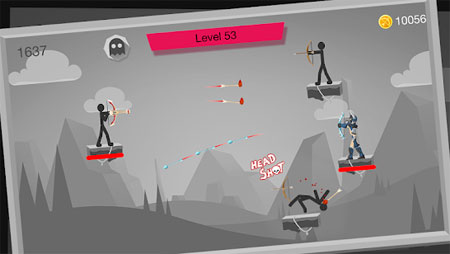 You will face many enemies with special bows. Drag and drop to aim and shoot arrows at the enemies. A beautiful headshot can completely destroy an enemy or even two. Fight your way to get more and more ancient bows from your ancestor. Prove yourself the ultimate archer of all times.
The game features a roster of heroes with unique ability, and various weapons to choose. Enjoy the minimalistic graphics and theater animations. If you get stuck in the game, check out the video walkthrough and gameplay for the game.
Mr Bow Walkthrough Level 1 to 31:

Mr Bow Walkthrough Level 32 to 40:

Mr Bow Walkthrough Level 41 to 50:

Mr Bow Walkthrough Level 51 to 60:

Mr Bow Walkthrough Level 61 to 70:

cheap alexander mcqueen uk
Mr Bow Walkthrough Level 71 to 80: