WTF Detective is a unique hidden object adventure puzzle game by Absolutist Ltd. It takes you on a quest to solve a murder mystery as a special agent of a secret service along with a keen detective and an odd psychic.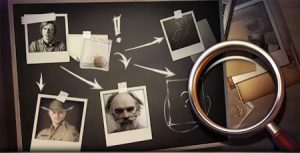 As you find yourself involved in a secret investigation of hidden crimes, you quickly learn to collect evidence and interview suspects. Supervised by a high-ranked police officer and a caustic expert with supernatural abilities, you will solve one criminal case after another and upgrade your i-spy skills.
Find hidden objects and analyse the collected evidence with the help of the advanced technology you have never heard of. Think out of the box as you try to piece together hidden clues. If you get stuck in the game, check out the video walkthrough and gameplay for the game.