Skyland: Heart of The Mountain is a unique adventure game developed by Artifex Mundi. The game is set in an outlandish world the surface of the planet withered and died below the toxic fumes. Survivors fled and settled atop the sleeping giants. People are disappearing without trace and it seems it might be connected to your father's tragic death. It's up to you and your trusty crew of airship Nightingale to uncover the truth behind it.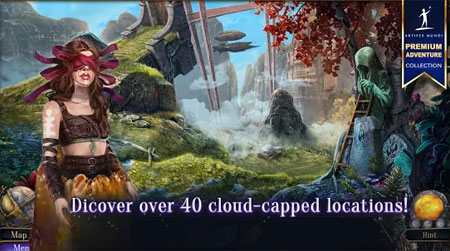 Team up with your sister Adrianne and together you will solve a mystery behind your father's passing and see a glimpse of ancient civilization that shaped this world. In your journey you will confront mysterious Bal the Sole and possibly face questions about a nature of life itself.
Step into the world created on the shoulders of slumbering giants. Join the crew of Nightingale and travel across the Skyland. Solve over 50 steampunk themed puzzles. Discover hidden truth behind mysterious Bal the Sole. If you get stuck in the game, check out the video walkthrough and gameplay for the game.
Skyland: Heart of The Mountain Walkthrough Part 1:

Skyland: Heart of The Mountain Walkthrough Part 2:

Skyland: Heart of The Mountain Walkthrough Part 3: