Crazy Monster Truck Legends 3D is an extreme stunt car driving game developed by Game Bunkers. You have a chance to drive trucks on impossible tracks which are built with mega ramps in sky limits. Get control of riding seat of Suv cars that have 4×4 wheels to perform extreme car riding tricks.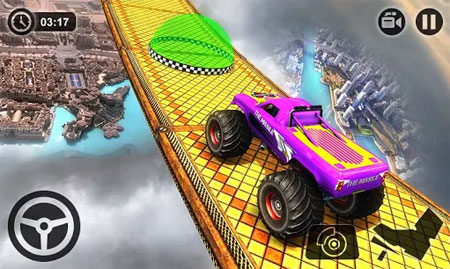 Drive sensible ride and be careful, do not hit any hurdles. If you hit anything your vehicle will be fall down and crashed, you will fail your mission then you can press retry button to start your driving mission again. Perform dangerous driving with boost, extreme stunts, drift, car roof jumps, mid-air jumps and real time car driving.
Jump into luxury cars to drive safely on curvy and zigzag tracks and reach at road end to finish levels. Unlock stunning vehicles as you wish. The game features loads of challenging hard missions. If you get stuck in the game, check out the video walkthrough and gameplay for the game.
Crazy Monster Truck Legends 3D Walkthrough Part 1 – Impossible Monster Truck:

Crazy Monster Truck Legends 3D Walkthrough Part 2 – Bandit Truck Unlocked:

Crazy Monster Truck Legends 3D Walkthrough Part 3 – Hard Levels Unlocked:

Crazy Monster Truck Legends 3D Walkthrough Part 4 – The Missile Unlocked:

Crazy Monster Truck Legends 3D Walkthrough Part 5 – The Viking Unlocked: