NEVAEH II: Era of Darkness is a revolutionary ARPG mobile game from EYOUGAME. Huge game maps will lead you to a western mysterious dark fantasy land. Various kinds of PVP matchup and PK will immerse you in the real fight between light and dark.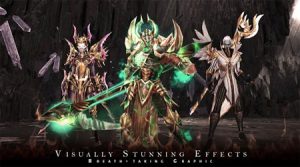 Unlimited combination of gears, gems, runes and skills can be found in the game. Cultivate your own mount and partner, level up and challenge the next level. Lead your hero and become the legend of the magical land.
The game features various kinds of game mode – Single 1v1, Multiplayer 3v3, Real Time Synchronize, and Cross Server Challenge. If you get stuck in the game, check out the video walkthrough and gameplay for the game.
NEVAEH II: Era of Darkness Walkthrough Part 1 – Assasin:

NEVAEH II: Era of Darkness Walkthrough Part 2 – Berserker:

NEVAEH II: Era of Darkness Walkthrough Part 3 – Mage: