Drive and Park is a unique parking game from SayGames. Park the running car by drifting, earn money and collect cars from each location around the world. To complete a level, you must reach the required cash amount before your 10 allocated cars are used up. The perfect your car parked, the more money you earned.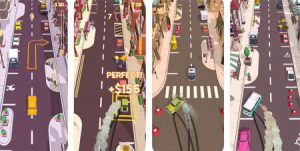 The game lets you do something you are dreaming but cannot do in the real life. Slam on the breaks and skid the running car into a free parking bay. It is not easy to tap at the right moment and release your hold accordingly. Maybe you need to practice several times to grasp the perfect 180-degree swing.
Avoid smashing into a parked car or other existing objects, this will instantly bring the police and end your turn. Parking too far over the lines, or hanging your car into the road all means failed. Don't tap too earlier, and don't release too earlier. Don't tap too later, and don't release too later. You need to find your own rhythm.
Different cars have different speed, and you need to change your controls properly. Your cars will fun faster and faster in the later levels. The faster your car goes, the earlier you need to tap the break, and the less time you release your hold. The rule is simple but you may need several practice.
You will be rewarded a car at the completion of each level. They are stored in your garage and you can build your team of four cars. Choosing those with the highest value is a good idea. If you still have any questions with any level, please check out the video walkthrough from level 1 to 30.
Drive and Park Walkthrough Level 1 to 7:

Drive and Park Walkthrough Level 8 to 18:

Drive and Park Walkthrough Level 19 to 30: